Backpacking Gear List for Beginners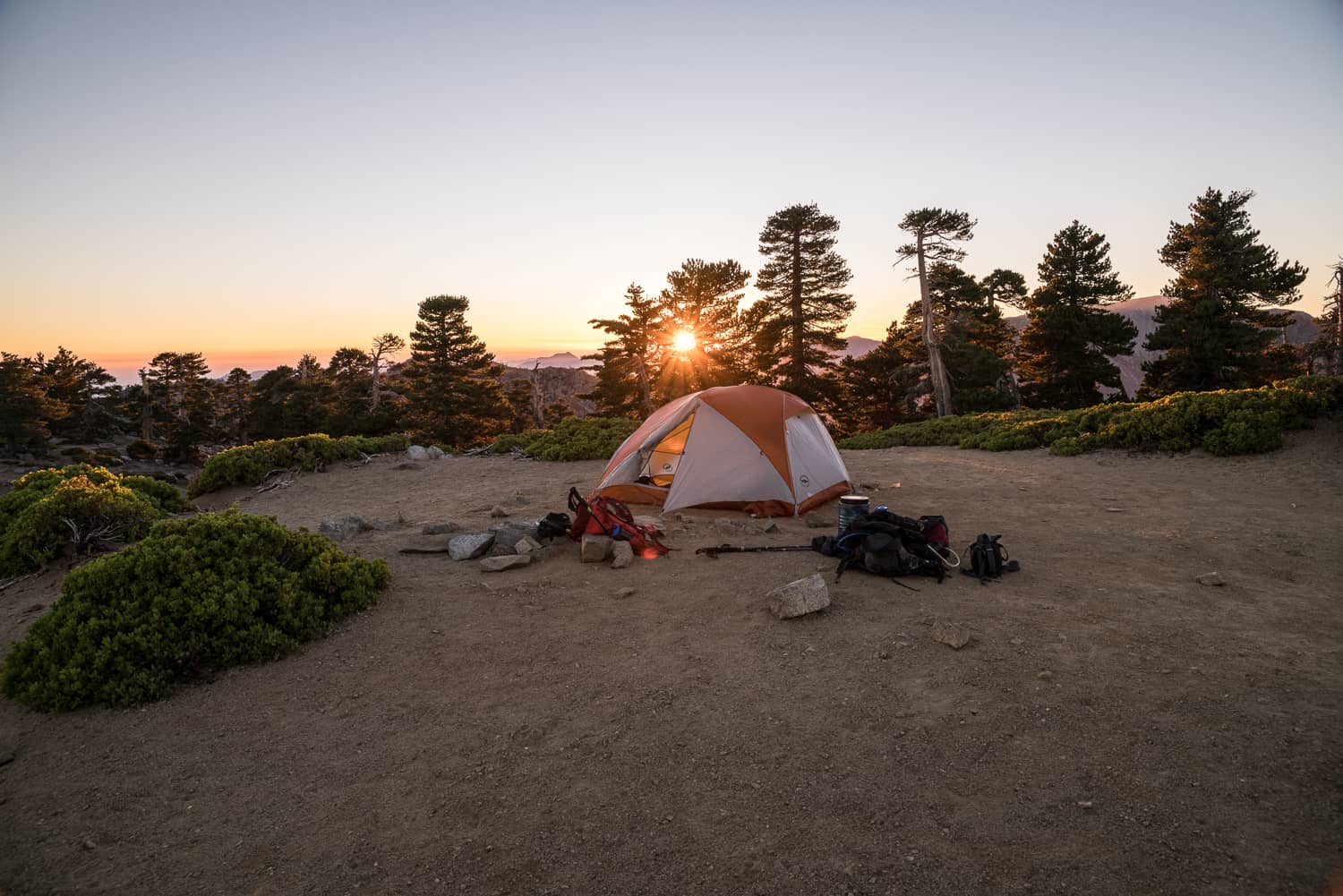 Your first backpacking trip can seem intimidating. There are many questions about what you should bring or leave behind. I hope this backpacking gear list for beginners guide will help you on your fun and exciting first adventure.
Essential Backpacking Gear List
Every trip into the backcountry makes use of essential items. Hikers or backpackers that are more advanced or into ultralight backpacking may not carry all the items on this beginners list. I recommend this as a starting list for beginners.
The Big Three
The big three are the main items for your trip. They have the most influence over the style of backpacking that you will be doing. These items define the base weight and initial cost of your system. I recommend finding something in the middle of the road. There is no need to buy the most expensive ultralight items at the outset. Ok, I realize there are four items here. I consider the sleep system as a single item of the big three.
Backpack – Backpacks are categorized by their load-carrying capacity, usually in liters. Therefore, I would recommend going with 40-60 liters. If you find that you cannot fit your gear into a 60-liter pack, you may want to reconsider what you are packing.
Sleeping Bag – I recommend a 20-30 degree bag for three-season camping. If you can afford it, a down sleeping bag will last for decades, and their warmth to weight ratio is extremely high. The downside is that they do not keep you warm when wet, so you may consider synthetic if you are planning a wet outing.
Sleeping Pad – The sleeping pad makes a huge difference in both comfort and warmth of your overall sleep system. Sleeping pads are rated by their R-Value, which is how much insulation from the ground they provide you, and usually the thickness or comfort level. For three-season use, I recommend an R-value of 2 or higher. For women or cold sleepers, you may want to consider bumping up to 3+.
Tent – Your tent will be your shelter from the weather and bugs. If you think you may spend a lot of time in the tent due to either you may consider moving up to a larger tent like a three-person for two people or a two-person for a single camper.
Common Essential Gear
Water Bottle – I consider a water bottle to be an essential item. You would carry some water even if you were only out for a day hike. I prefer one liter Nalgene bottles. They are convenient and durable.
Headlamp – A headlamp is an item that never leaves my packs. Even on day outings, I will carry a headlamp as a safety item. A headlamp can shed some light on the situation if find yourself out after dark.
Toiletries – Don't forget to bring your toothbrush! Be sure to bring any items you require. Medications, contact solution, sunscreen, a bit of toilet paper, or any other things you may need.
First Aid Kit – This does not have to be exhaustive, but some items may be useful. I always carry some simple items like Steri-Strips and assorted Band-Aids. Something to address blisters, either moleskin or my favorite duct tape. Some Benadryl may be nice in case of an allergic reaction. Ibuprofen for any small aches or pains. I also carry in this kit a backup lighter, and some type of fire starter for use in an emergency.
Map/GPS – This is a safety item. You should be sure you know where you are and where you are going. You can accomplish this by the use of smartphones today. I recommend carrying a map and compass and you should learn how to properly use them.
Camp Cooking Gear List
The camp kitchen will have everything you need for preparing, cooking, and eating your meals.
Stove – A small simple stove is great when just starting out. I really like the Jetboil brand stoves. They boil water quickly and conveniently nest the fuel inside for easy packing.
Lighter – If your stove does not have a way to light itself don't forget to bring a lighter. I usually always carry a lighter even if my stove has an igniter on it. Cold dinner is never fun especially if it is freeze-dried.
Water Purification – Some way to refill your water bottles in camp is essential. If you plan to do lots of backpacking and hiking you may consider a water filter. I really like the Katadyn Hiker Pro. I have been using one for over a decade now. If you are not doing a lot of backpacking or just getting started you may consider using water purification tablets. I have used and like the Katadyn Micropur Tablets. No mixing and super easy to use. They just take a bit longer than filtering.
Utensils – I usually always pack a spork for my only utensil. It works for most anything I will be eating. I also always bring a mug for coffee and unless it is just a quick overnight I will also carry just a bowl, but not a plate. I also always have a pocket knife that I carry. The Ontario Rat-2 is inexpensive and of high quality.
"Essential" Comfort Items
Ok, they are not essential items for a backpacking gear list for beginners, but these items can make a world of difference for your backpacking experience.
Camp Chair – A lightweight or backpacking style chair can be a great comfort while hanging around in camp and around the fire. It is much more comfortable after a long day's hike to sit in the chair around the fire rather than on a log or in the dirt.
Inflatable Pillow – An inflatable pillow is a great treat when it is time to turn in for the night. It is much more comfortable than stuffing your extra clothes into a stuff sack. A good night's rest will mean you are ready to do more the next day.
Hammock – A hammock is a super fun thing to have in camp. It doesn't take up a ton of room or weight and is a really great way to "hang" around camp.
A Beginner Backpacking Gear List is Easy!
This may seem like a lot of gear. Just remember if you have some form of the essentials you can get out there and start learning and making memories now. The rest you can add as you gain experience. The best part about backpacking is getting out there and leaving all the normal "clutter" of life behind. So get out and enjoy some fresh air and open spaces!
Did I forget something or would you like to share your favorite piece of gear for a beginner's backpacking gear list? Leave a comment below!