2023's Best Backpacking Chair: Comfort on the Trail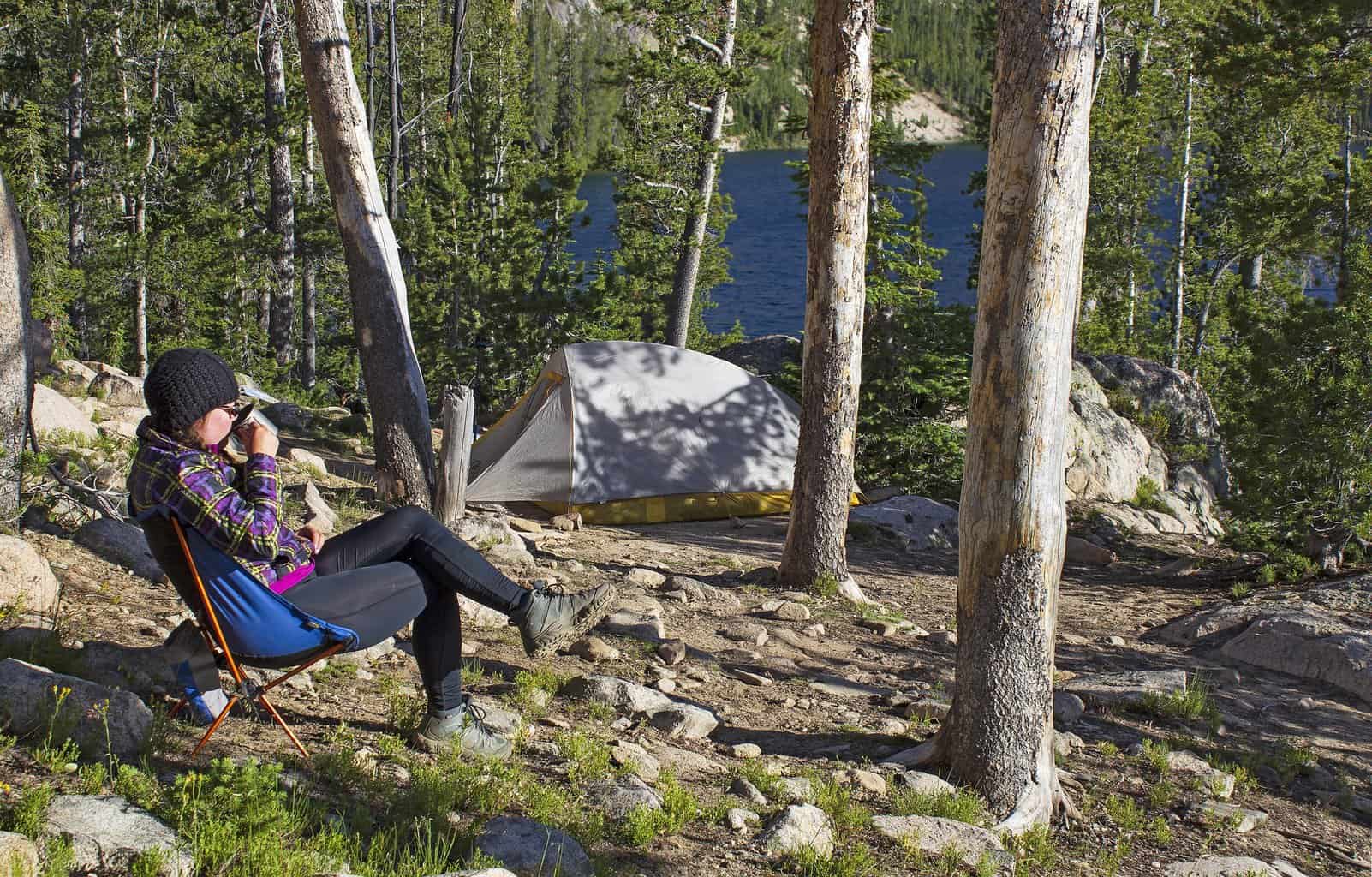 Are you tired of lugging around a bulky, uncomfortable chair on your backpacking trips? Fear not, fellow adventurer, because I have scoured the internet to bring you the ultimate guide to the best backpacking chairs on the market. From ultralight chairs that won't weigh down your pack to chairs with built-in coolers for those hot summer hikes, this article has got you covered. So sit back (in your old, uncomfortable chair) and get ready to learn about the best backpacking chairs out there – your backside will thank you later!
What are the Best Backpacking Chairs?
Best Overall Backpacking Chair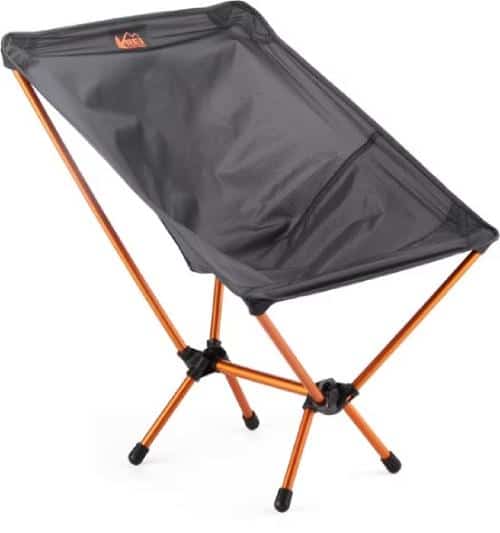 Weight: 1 lb
Folded Dimensions: 5"x16"
Unfolded Dimensions: 19"x22"x22"
Seat Height: 11"
Capacity: 250 lbs
Advantages: At $99.95 this chair from REI is considerably less expensive than similar chairs, such as the Helinox. This is my favorite backpacking chair. Full confession here, I am on the small side as far as humans go. My husband calls it "fun size" which I love. This chair is very cozy for me and it is the lightest backpacking chair (well tied for the lightest backpacking chair).
The seat height is 11 inches off the ground, which makes for a more comfortable lounging than a shorter seat. REI Co-op has really done a great job with this chair. It provides adequate back support. The packed size fits nicely in the outer mesh pocket of my pack (which makes for fast and easy deployment). It is a great backpacking chair that I have used for many years.
The REI co-op Flex Lite is also made with sustainable materials for the seat fabric, which makes the environmentally conscious among us feel good. That is one of the reasons that I would consider this the best ultralight backpacking chair. Mine is even in a color that I love – crimson! With the rebate provided by the REI co-op, this chair is even more affordable.
Disadvantages: Though it hasn't been a problem for me personally, I have read reviews from others that complain about the lack of warranty. REI does sell a replacement fabric seat in the event that it rips.
Runner Up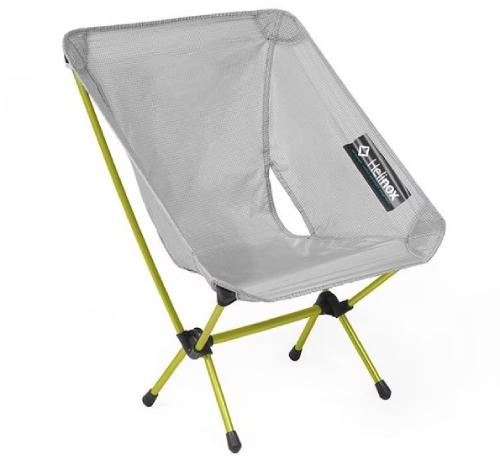 Weight: 1 lb
Folded Dimensions: 14"
Unfolded Dimensions: 25"x 20.5"
Seat Height: 8.5"
Capacity: 265lb
Advantages: The Helinox and the REI Flexlite air chair are tied for the lightest backpacking chairs but the Helinox folds down smaller to fit in your pack. This chair does have a higher capacity for those with more body weight and the seat back is higher. If possible, you should sit in as many lightweight backpacking chairs as possible before you buy one because everyone has different dimensions. This ultralight camping chair comes with a great warranty – 5 years! This means that you can get a replacement chair if anything happens to it out on the trail. This comes in handy because any backpacking chair is going to spend some quality time around a campfire and sparks do sometimes fly. As far as backpacking chairs go, this one is tried and true.
Disadvantages: While not the highest cost of the chairs in the backpacking chair category, it is still 50% higher cost than my top pick for camp chairs. While the height and width of the seat are more luxurious, the seat height is lower which can make getting in and out of the chair more challenging. The Helinox chair comes in two colors (grey and black). While this is not a disadvantage, when our family goes camping, we all bring our own backpacking chairs which are easily identified by color.
Most Comfortable Backpacking Chair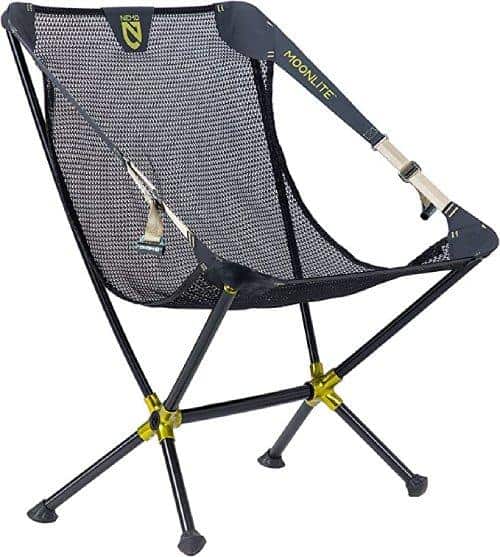 Weight: 1 lb, 14 oz
Folded Dimensions: 4"x 4"x 14"
Unfolded Dimensions: 20"x 20"x 26"
Seat Height:
Capacity: 300lb
Advantages: The most notable advantage is right in the name … it reclines! This is achieved very simply with adjustable straps, like those on the crazy creek chair. Most backpacking chairs that are light enough to carry into the backcountry are not adjustable. This is the only backpacking chair that claims to be adjustable. The aluminum frame for this chair has wide balls on each foot which work well on soft ground to prevent the chair from sinking into the earth.
The seat fabric is mesh for the full chair, which is very nice on a hot day. The chair is also made of post-consumer recycled materials. The NEMO chair comes with a lifetime warranty. This chair offers the best back support, which is nice on a backpacking trip.
Disadvantages: This chair weighs almost double the top two backpacking chairs on this list, but is still considered lightweight. Other backpacking chairs would be better for carrying for long distances or high elevation gain. This chair costs more than the Helinox chair and is the highest-cost chair on the list.
Best Budget Backpacking Chair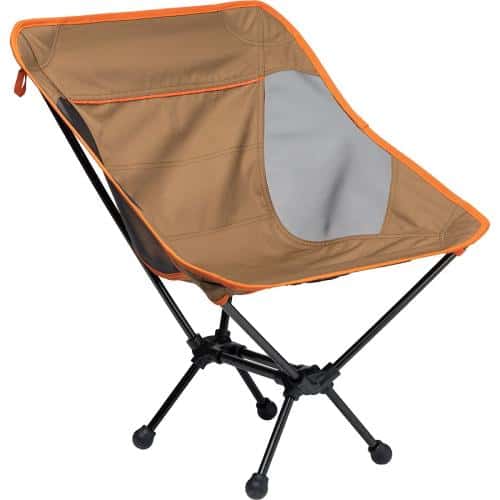 Weight: 2 lb, 11 oz
Folded Dimensions: Unspecified
Unfolded Dimensions: 18.9"x 12.6"x 24.8"
Seat Height: Unspecified
Capacity: 300lb
Advantages: If you are just getting started in backpacking, or otherwise are strapped for cash then this is the most budget-friendly of all the portable chairs and it comes in three fun colors. This chair even comes with a side pocket for stowing items you would like to keep handy around the campfire, like a headlight or your cell phone.
This classic backpacking chair also has large, ball feet that are nice when using it on wet ground. Like all the chairs, there is plenty of back support, far more than any backpacking stool.
Because it is a heavier chair, it does support a heavier load and has the highest capacity of all the backpacking chairs on this list.
Disadvantages: This is the heaviest of all the backpacking chairs on this list, but still easily counts as a lightweight camping chair (though not ultralight backpacking). The chair has a larger packed size than the others on this list and the carrying case has an extra strap for shoulder carry, which is unnecessary when carrying in a pack.
Most Stable Backpacking Chair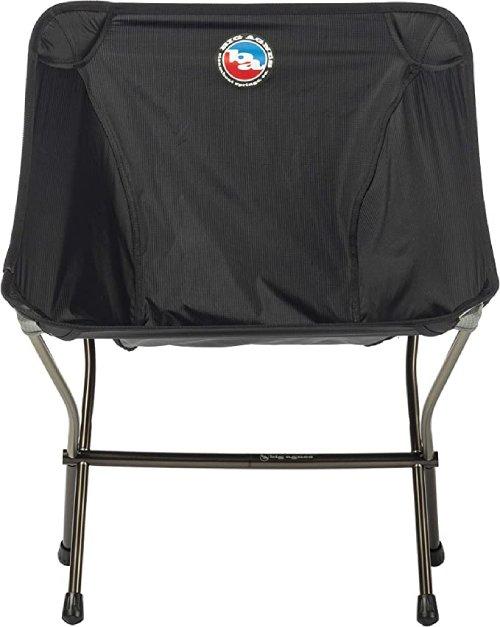 Weight: 1 lb, 12 oz
Folded Dimensions: 3.5"x 17"
Unfolded Dimensions: 26"x 21"x 17.5"
Seat Height: 15"
Capacity: 275 lbs
Advantages: The Big Agnes chair offers the highest seat height off the ground of all chairs on this list. That means that it is the easiest chair to get in and out of and that is why it is one of the best backpacking chairs out there.
The feet on the frame turn out a little, which provides greater stability than other backpacking chairs. This chair offers optional accessories, like an insulated cover. It also comes in 5 colors, which I think is a lot of fun. Like all other chairs on this list, it offers nice back support.
Disadvantages: This chair costs more and is heavier than the best backpacking chairs on the list, but it is otherwise a solid pick. The REI Co-Op Flexlite is higher on the list because it is cheaper and lighter.
Why Should You Buy a Backpacking Chair?
You've hiked all day carrying a heavy pack and you finally arrive at your campsite. You set up your tent and you finally get to sit down and relax. You look around and find a comfortable rock or log. Doesn't that sound nice? No way! Doesn't it sound far better to arrive at camp and quickly assemble a comfortable chair that you can plop down in and spend the evening in luxury? In the past, it was unthinkable to carry a chair into the backcountry because they were just too darn heavy. Technology has come a long way and ultralight camping chairs are now a reality. I won't consider any backpacking trips without a lightweight camp chair.
In my earlier backpacking life I counted myself lucky if there was a well-placed log by the fire. Sitting on a log, or even sometimes a rock, was an improvement to sitting on the ground. No log or rock can possibly compete with the luxury of a camping chair. I was the first person in the group to invest in a backpacking chair. What I noticed is that if I wasn't sitting in the chair, someone else was as soon as I vacated it. Backpacking without my chair is as unthinkable as heading out without my sleeping pad.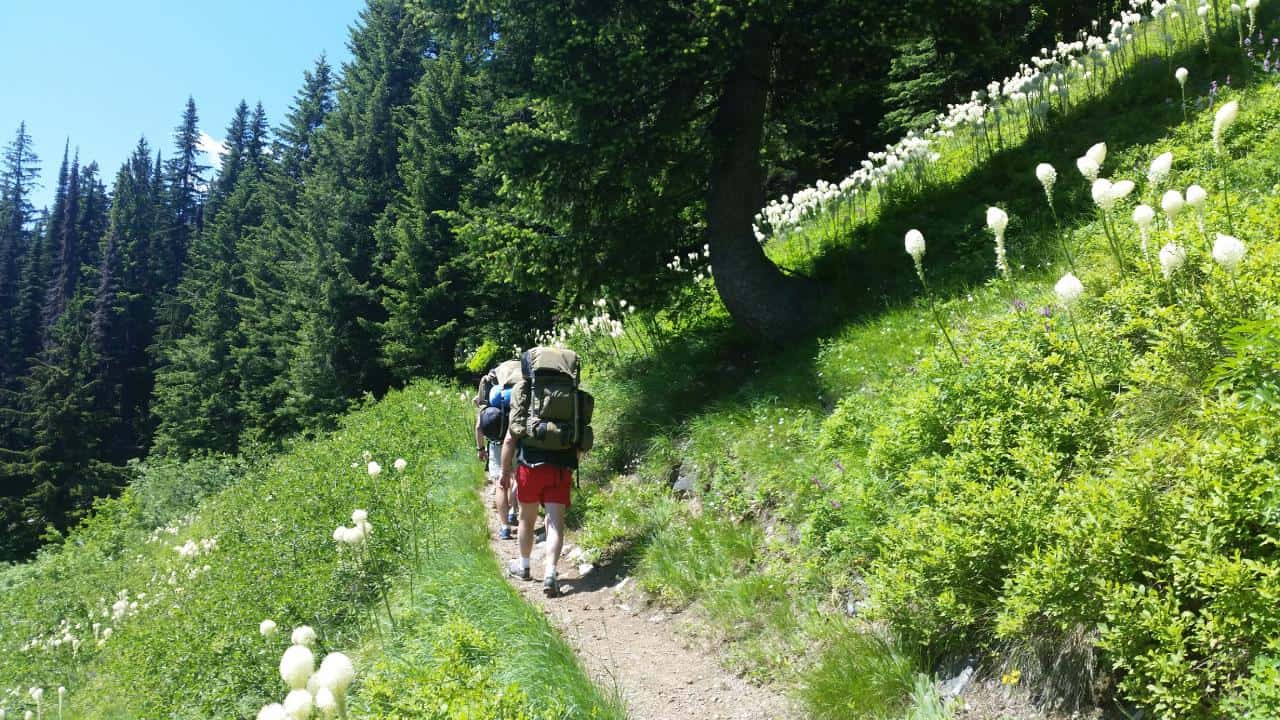 Why are backpacking chairs so great? Chairs keep you off the ground and good ones come with backrests. A lightweight chair is worth the weight to carry any distance to camp because it drastically improves your comfort level once at camp. Imagine soaking your feet in the cold, clean waters of a high mountain lake and lounging in the best backpacking chair. It is heaven itself. It is every bit as important as having a comfortable sleeping bag. An aluminum frame makes these ultralight backpacking chairs sturdy and the frame stretches the fabric in a comfortable way that eliminates the need for a sit pad and allows the chair kit to break down into a manageable packed size.
In this article the only chairs that were considered weighed under three pounds. I don't know if there is an official weight limit to be considered a lightweight backpacking chair, but for this camper, that limit is three pounds. Another thing that all recommended chairs have in common is a backrest. There are backpacking stools available, and some are very lightweight, but a stool isn't nearly as comfortable as a chair. I did not include taco-style chairs or any other foldable backpacking chair in this review as they don't compress down small enough to easily carry into the backcountry. Some people look to inflatable seat pads, which get the job done but not nearly to the luxury level of the best backpacking chairs, even budget backpacking chairs.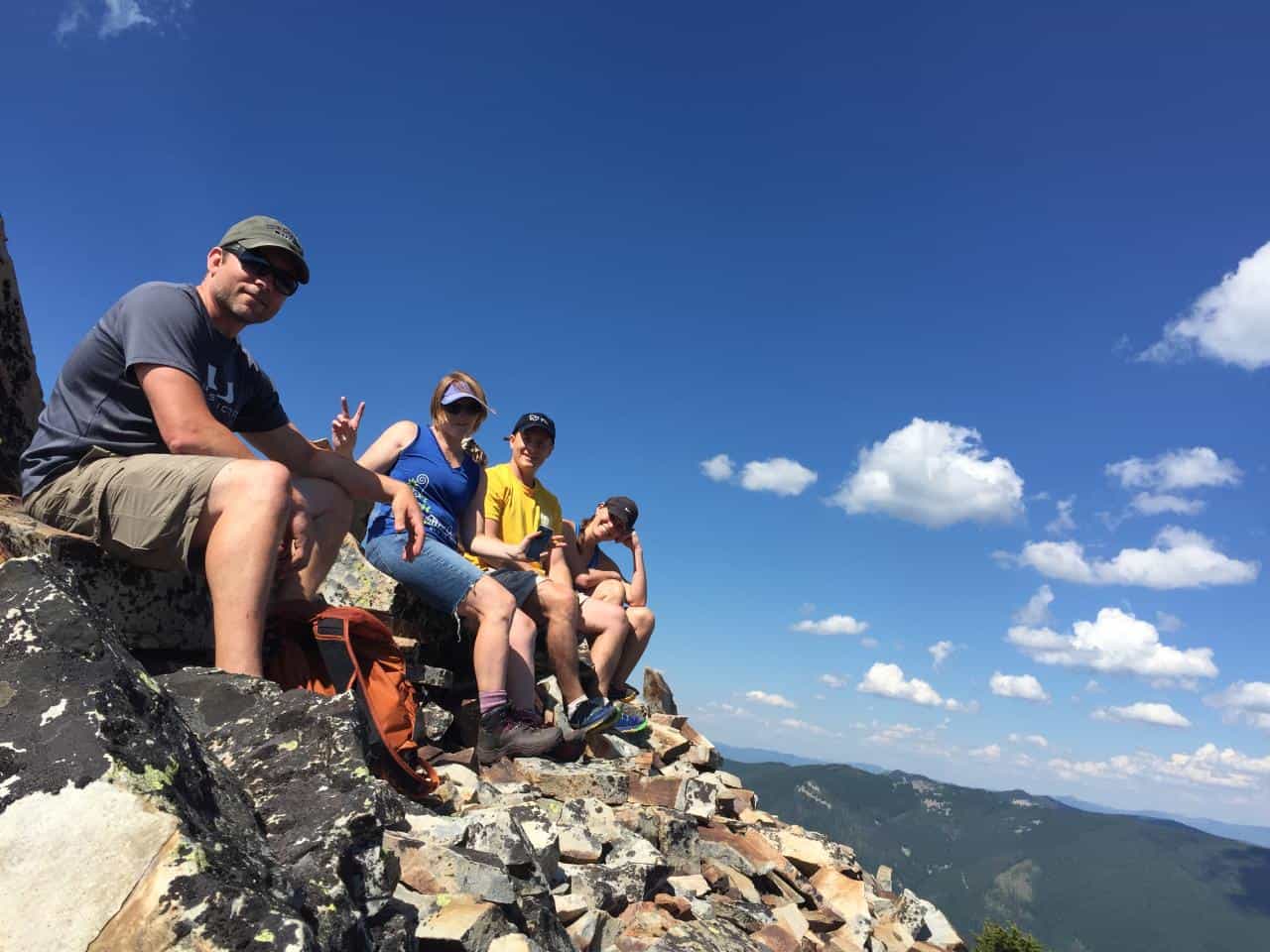 Backpacking chairs are worth their weight in gold. The lightest chair makes the decision to include a camp chair in your kit a no-brainer, even for the ultralight backpackers that would forgo a sleeping pad (crazy people!). The best backpacking trips are those that generate the happiest memories, sitting around the campfire or soaking your feet in a mountain lake. That is why no backpacking trip should be undertaken without a camp chair (and one with comfortable back support)
Summary
My pick for the best backpacking chair is the REI Flexlite chair, with a close second the Helinox chair. Quite simply these are the lightest chairs that offer back support that you can buy. While I am by no means an ultralight backpacker, I know that pack weight is important and makes a difference in your overall enjoyment of your trip so every pound counts. These two are the best backpacking chairs because they each only weigh one pound, which makes them worth the weight. The REI chair tops the list due to coming in at a lower price point.